But I am sure making up for it! I finally got the fabric I wanted. It is a beautiful flower print I saw weeks ago that matches a cute tanktop I had recently bought. And it reminds me of spring! Too bad the weather around here is deffinatly NOT skirt weather, but I'm still happy to make it!!
Here is the fabric and pattern (that I loved and decided to do instead of my original wrap pattern)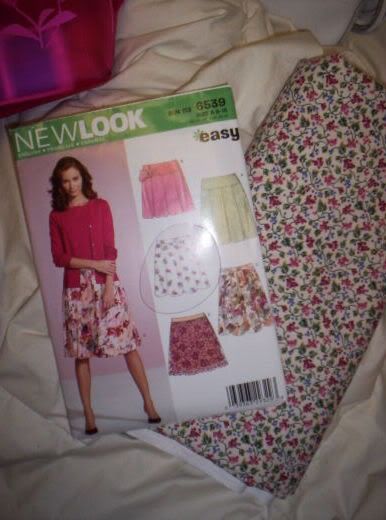 I chose skirt D, it is a bit shorter than the one on the model. I am not too sure about sizing, but that's why I'm in textiles so I have my teacher to help me if I need to adjust the pattern. Yay! I have everything I need all ready in my little sewing bag I made as a kid. Woo hoo!!! I think I have skirt fever!!!