Hi everyone,
When I signed up for this sew-a-long I was so excited I ordered my pattern right away and ran out to buy fabric (way too much fabric)... and then I got pregnant and REALLY sick. My cut out skirt pieces just sat on the table begging me to sew it together but I tuned out it's cries from where I was hiding under the covers, feeling greener than green.
Well I am finally starting to feel better and have gotten the creative bug back (which is better than the nausea bug) but knitting (my main love) makes me sea sick. I haven't knit a stitch in over 7 weeks. Very hard to believe, I know!
However yesterday I discovered that I could still sew. Nothing about sewing makes me sea sick - so I am happy to introduce to you my first completed project for this sew-a-long: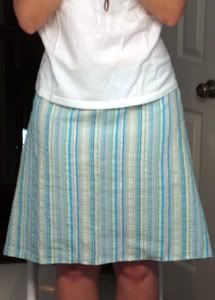 YUP!!! I made a skirt... now I realize that LOTS of you have made a skirt before me but I am shocked that "I MADE A SKIRT!!!" Complete with zipper and everything! Oh I am so proud of myself! Proud enough that I am making skirt #2 today!
And PS... since I just took pictures of myself in the skirt I still had it on when a neighbor rang my doorbell. I opened the door and she said "Hi. Nice skirt!" Ohhhh I am in heaven!
So thanks for listening and sharing in my little wonder! After skirt #2 (and maybe even 3 & 4) it's onto the bag....
Pattern:
Betsy Ross
#001 One Hot Skirt
Fabric: Not sure... some kind of seersucker cotton fabric I think
Time to Complete: Cut it one day, sewed it in a few hours another
Would I do it again: In a heart beat!
-
Alison
PSS - I haven't told nearly anyone of my pregnancy yet - that is why you'll see no mention of it on my blog.... so you ladies are some of the first to know... (We'll break the news May 1st after we've passed week 12)