Well I did it again - introducing skirt #2 (still excited):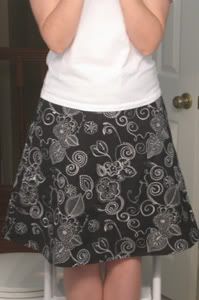 Yup! In just a few short hours yesterday (after posting about my first skirt) I completed skirt #2. I made this one an inch bigger so that it would fall around my hips (instead of my waist as the pattern calls for) since that is how I usually wear my skirts. This one is made from some type of fabric (cotton maybe) -- it's hard to keep track when fabric doesn't come with a ball-band like skeins of yarn do. It's black with white embroidered flowers and leaves all over it. Again I put in a zipper (this one black) and used black thread to sew it all together.
This skirt falls longer (again the way I usually wear my skirts) and I just love the way it looks. (I even thought to pre-shrink the fabric this time.... whoo hoo) The pattern is the Betsy Ross One Hot Skirt and I am just so impressed with her pattern! Even the dumb beginner like myself was able to do it - not just once but twice!
I am planning on wearing this skirt to a wedding I have in May in Arizona. All I need to do now is buy a top to wear and while I thought about making that too I figured one new accomplishment per month is all I can handle these days! Two more skirts to make and then onto the bag! Gosh this is so much fun!
-
Alison